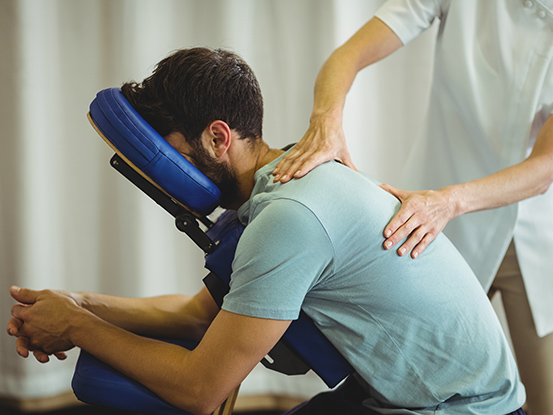 10 Aug

Chiropractic Care For Workers Comp Back Injuries

When you were hired, you probably never imagined that you would get hurt on the job. Should you have developed an injury as a result of your workplace, our workers comp doctor in Nassau County at Island Chiropractic can help you get the treatment you deserve.
Common Workplace Injuries
When you're in agony after a back injury at work, your life can become extraordinarily difficult. Any injury that doesn't enable you to continue working not only affects your wage-earning ability, but also affects your quality of life. Back injuries account for one out every five injuries that occur in the workplace. You may be at risk of back injury for the following reasons:
Poor Physical Condition.
Improper Lifting.
Poor Posture.
Improper Body Mechanics.
Chiropractic Care
Back injuries are unfortunately a common occurrence for many patients. It may be impossible to power through your pain, so we suggest visiting a workers comp doctor in Nassau County for chiropractic care. Regardless of your ability to function even a minor injury can lead to serious problems if left untreated. Chiropractic care is covered under workers' compensation and can be an effective treatment method for back injuries. This form of treatment can be beneficial for you because it can relieve pain and correct misaligned joints. A chiropractor focuses on diagnosing and treating the musculoskeletal system. Chiropractic care is a non-invasive treatment method. If you have never visited a chiropractor before, we'd like to explain what you can expect during your appointment. Your treatment will depend on your injury and your physical ability. Some of the chiropractic treatment modalities we use may include:
Soft tissue massage.
Spinal manipulation and mobilization.
Joint manipulation and mobilization.
Spinal adjustment.
Exercise and activity modification recommendations.
Spinal decompression.
Suffering a back injury on the job can be traumatic. When you make an effort to receive care, you want to make sure you are being treated by someone you trust. Our team will work with you to develop a treatment plan that serves your needs. If you are suffering from pain, there is no need to wait for it to worsen.
Contact Us
At Island Chiropractic, our goal is to improve your health and get you back to work quickly after an injury. To learn more about how our workers comp doctor in Nassau County can help, contact our team today!